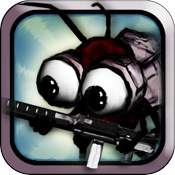 Welcome to the Bug Heroes Wiki
This is the fan-made wiki dedicated solely to Bug Heroes, the brilliant and surprisingly deep iOS action tower defense RPG hybrid from Foursaken Media. The wiki also covers Bug Heroes Quest, a game set in the world of Bug Heroes, with a focus on RPG elements, continous gameplay, and persistant elements (as opposed to the match-based, high score-focused gameplay style of Bug Heroes).
All and everyone are more than welcome to edit this wiki and contribute to Bug Heroes' first online database, but (and we're deeply sorry for reigning in your creativity ;-) ) try to keep contributions relevant to Bug Heroes. Please try your hardest to use correct grammar and when you are adding info, please write it into the sub headings of the page that most fits. If you're not sure where to start editing, stop by the Community Corner where we have a list of what we're working on. And if you need help, please contact this wiki's active admin, K-leb25.
If you feel like something in BH is missing, don't forget to check out Suggestions for Bug Heroes to write down your own suggestions for features. Also stop by to vote on which is your favourite and least favourite bug hero! Also comment on whether you like the new look of the wiki here!
Content
Other
Check Out Bug Heroes and Bug Heroes Quest!
Editing priorities
Current editing needs and top priorities: Expanding on the different hero pages, adding a greater sense of structure, and adapting all hero descriptions to conform to the same standards of writing and layout. Expanding the tactics and stats for turrets. Expanding the information on the different maps, with additional player input on tactics for each particular map.
Lesser/future priorities, but priorities nonetheless: World and backstory information. Additional guides and tactics. Screenshot gallery. Player stories.
Copyright notice
All content is available under the Attribution-NonCommercial 3.0 Unported (CC BY-NC 3.0) license, with the exception of media and text created by Foursaken Media (in the case of text, denoted as "Dev description"), which are used with explicit permission, and may not be reused without specific permission from the creators. Additional limitations may apply, should any individual writers wish to protect their content under another license, but unless so noted on each individual page, CC BY-NC 3.0 applies.
Community content is available under
CC-BY-SA
unless otherwise noted.